Comic Book Store in Evansville, IN
Whether you're looking for the latest Batman release or classic comics from the Golden Age, The Book Broker has an amazing selection of comic books and accessories you won't find anywhere else in Evansville, IN. We're also your go-to resource for tournament cards and accessories, offering all the supplies you need to make the most of your tabletop gaming.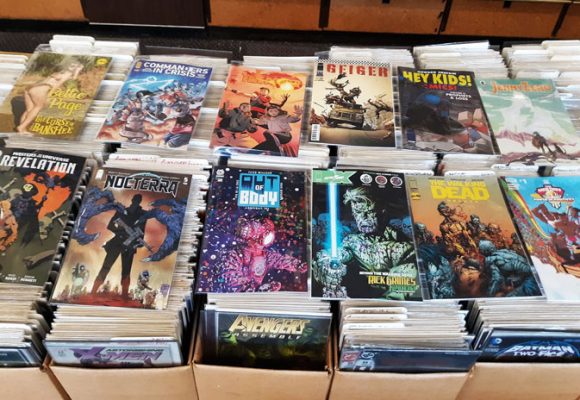 Comic Books
Reading and collecting comic books has been a favorite American pastime for decades. As the premier comic book store in Evansville, Melody Hill, Parkers Settlement, and Stevenson, IN, we've got new comics and action figures arriving every Wednesday. Our extensive selection of new titles includes nearly everything published by Marvel, DC and Image, as well as most alternate publishers like Dark Horse. Looking for a rare comic to add to your collection? We've got Golden Age, Silver Age and Bronze Age comics at the best prices you'll find.
We've also got everything you need to keep these sought-after collectibles protected. From comic bags and backing boards to storage boxes and showcases, our comic protection supplies make it easy for you to care for your collection and investment.
Tournament Cards
Whether you're just starting out in card tournaments or you're a seasoned pro looking to expand your deck, we carry new and used TCJ cards. From Magic: The Gathering to Yu-Gi-Oh cards, we make it easy for you to get the cards you need to stay competitive. In addition to selling Yu-Gi-Oh cards, we also host Yu-Gi-Oh tournaments every Wednesday and Saturday at our Evansville, IN shop. Stop by and get in on all the action!
The Best Comic Book Store and Tournament Card Selection in Evansville
The Book Broker is proud to offer a wide variety of comic books from every era, as well as tournament cards and accessories to ensure you're well-prepared for any gaming session or tournament. Stop in and check out our selection of Yu-Gi-Oh cards, sports cards, books, and more, or give us a call at 812-479-5647 to learn more.